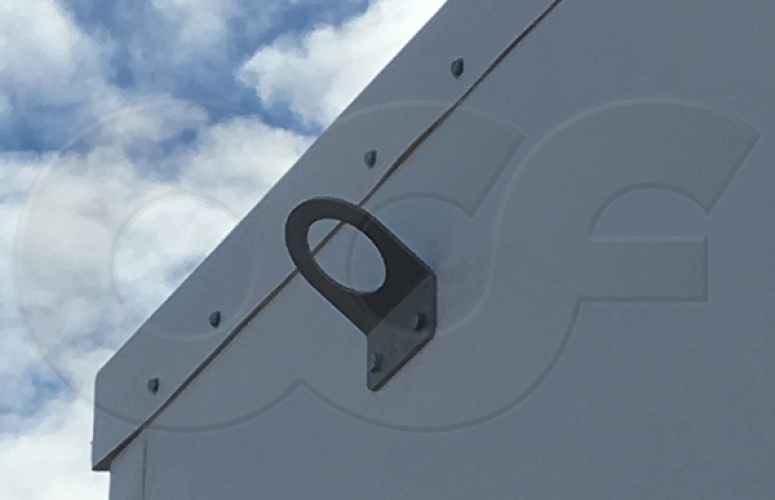 For year-round protection of larger equipment, Openchannelflow offers Fiberglass Modular Equipment Shelters. These shelters are designed for headworks, UV systems, chemical feed, and large electrical system components. Modular construction allows for flexibility and equipment access that is difficult for smaller, single-piece shelters or enclosures to provide.
Wide Range of Sizes
Modular shelters are available in:
12, 14, 16, 18, and 20-foot widths
Depths can be up to 40-feet, comprised of:
3, 4, 5, and 6-foot panels as necessary
The standard height is 7-feet 6-inches, although heights up to 13-feet 6-inches are available.
Access
One great advantage that modular shelters have over single-piece construction is that wall and roof sections can be made so that they are removable. This allows large equipment to be installed, removed, and maintained without the need to completely remove the shelter.
Removing a wall or roof panel can be as simple as: removing the sealing caulk between the panels and unbolting the panels from each other.
For removable roofs, sections can be removed, the entire roof removed, or access panels can be formed. Likewise, for removable walls, entire wall sections can be removed or access panels can be formed.
Minimal Maintenance
As the shelters are modular in nature, there are seams where panels are joined. Periodically, these seams should be inspected and recaulked as necessary, otherwise the exterior of all Openchannelflow single-piece shelters is a smooth, gloss finish. Unlike "satin" finished shelters, the gloss finish of Openchannelflow shelters means that other than a periodic wash down, there is no need for surface maintenance.
High Strength
As with our single-piece shelters, at the core of each of our modular shelters in our X-Web technology. This technology allows us to bond the inner and outer fiberglass skins together with a fiberglass I-beam fiberglass. The beam surrounds each insulating core panel and results in wall and roof panels that are light but incredibly strong.
The standard single-piece shelter design is for:
Wind speeds up to 115 mph [185 kph]
Snow loads up to 25 psf [1.2 kPa]
Type III / U occupation group
with higher wind / snow load reinforced designs also available.
Well Equipped
Openchannelflow equipment shelters come with a long list of standard equipment:
3068 single door

Norton overhead hydraulic door holder / closer
Schlage stainless steel ball knob
Molded-in door frame / threshold

Square D load center
Pre-wired 12 gauge THHN in PVC conduit
Leviton weatherproof GFCI outlet and switches
Lithonia fluorescent light
2-inch (R~14) insulation
Dayton exhaust fan, heater, and intake shutter
Fiberglass equipment mounting struts
Maintenance-free, gloss exterior
Removable lifting eyes
Endless Customization
While our shelters come with a long list of standard equipment, we also take a personal approach, designing each fiberglass shelter to meet our customer's exact needs.
We can easily modify widths and depths to allow for the perfect solution, and offer a wide range of equipment packages and options:
Doors (single, double, roll-up, and custom widths / heights)
Electrical (outlets, switches, PVC / EMT / rigid conduit)
HVAC (heaters, vents, fans, powered, unpowered, solar)
Lighting (interior, exterior, skylights)
Access panels / bulkheads
Safety equipment (horns, lights, emergency showers)
We love to challenge our fabricators, so don't be afraid to challenge us!
Easy to Install
With factory provided lifting eyes, Openchannelflow modular shelters usually arrive on site ready for immediate installation.
To ensure the best quality, Openchannelflow's modular shelters are pre-assembled at our facility. Then, depending upon our customer's needs, the shelter may be disassembled for site assembly or shipped assembled. When shipped in sections, the sections need only be bolted together and the joints sealed with caulk.
Protection Options
For applications where Openchannelflow's modular shelters are too large, Openchannelflow also offers: Single-Piece Shelters and Equipment Enclosures.
More About Modular Shelters