Pre-Engineered Shelters
Openchannelflow's pre-engineered Fiberglass Equipment Shelters offer year-round protection of larger equipment in even the most demanding of environments. The shelters provide all-weather protection, require virtually no maintenance, are not susceptible to rust / rot / corrosion / or decay.
Openchannelflow offers:
Standard single-piece peak height is 7-feet 6-inches to allow for LTL or standard flatbed shipment, with extended wall heights available. Modular shelters are available in heights of up to 13-feet 6-inches.
The length for single-piece shelters ranges from 2-feet 6-inches and, depending upon width, can be up to 16-feet. Modular shelters can be unlimited in length, although practical considerations usually mean that they are usually no more than 20-feet.
High Strength
Pound for pound fiberglass is stronger than sheet metal. It will not rust and it is perfect for outside use or at locations near water, especially salt water, or the corrosive environments found at treatment and chemical plants.
Our X-Web technology bonds the inner and outer fiberglass skins together by creating a web (or I-beam) of fiberglass around each insulating core panel. The result is wall / roof sections that are incredibly light yet which are, pound for pound, stronger than steel.
Well Equipped
Openchannelflow equipment shelters come with a long list of standard equipment:
3068 single door

Norton overhead hydraulic door holder / closer
Schlage stainless steel ball knob
Molded-in door frame / threshold

Square D load center
Pre-wired 12 gauge THHN in PVC conduit
Leviton weatherproof GFCI outlet and switches
Lithonia fluorescent light
2-inch (R~14) insulation
Dayton exhaust fan, heater, and intake shutter
Fiberglass equipment mounting struts
Maintenance-free, gloss exterior
Removable lifting eyes
Endless Customization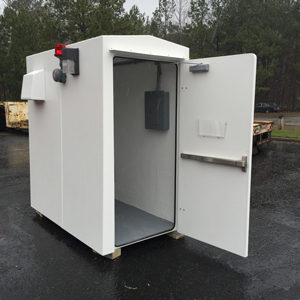 While our shelters come with a long list of standard equipment, we also take a personal approach, designing each fiberglass shelter to meet our customer's exact needs.
We can easily modify widths and depths to allow for the perfect solution, and offer a wide range of equipment packages and options:
Doors (single, double, roll-up, and custom widths / heights)
Electrical (outlets, switches, PVC / EMT / rigid conduit)
HVAC (heaters, vents, fans, powered, unpowered, solar)
Lighting (interior, exterior, skylights)
Access panels / bulkheads
Safety equipment (horns, lights, emergency showers)
We love to challenge our fabricators, so don't be afraid to challenge us!
Where fiberglass shelters are useD:

Chlorination / Dechlorination
Flow Metering / Sampling
Instrumentation / SCADA
Polymer Feed
Pump Stations / Headworks
MCC (Motor Control Center)
CEMS (Continuous Emission Monitoring)
Water Boosters
Oil & Gas
Railroad / Transit
Chemical Feed
Fire / Safety Equipment
Chemical Storage
Communications / Telecom